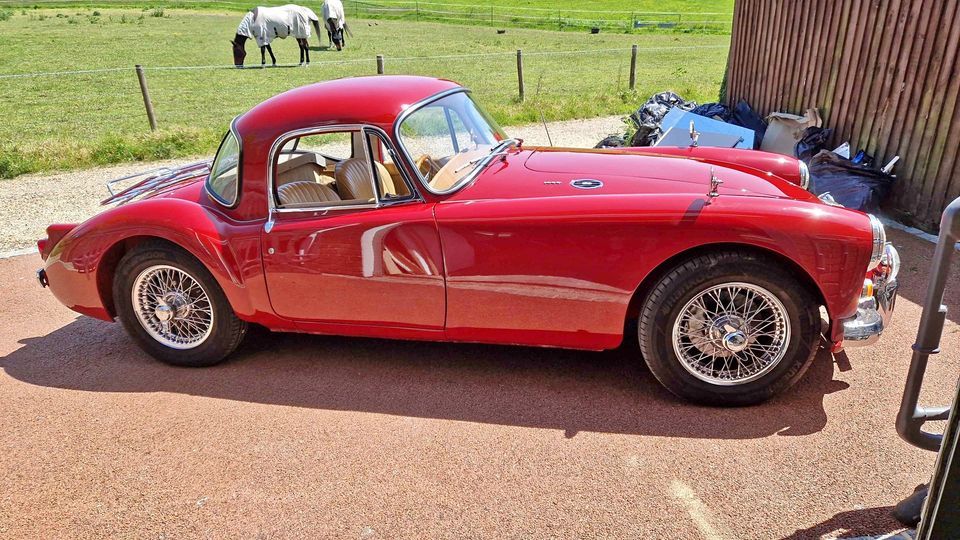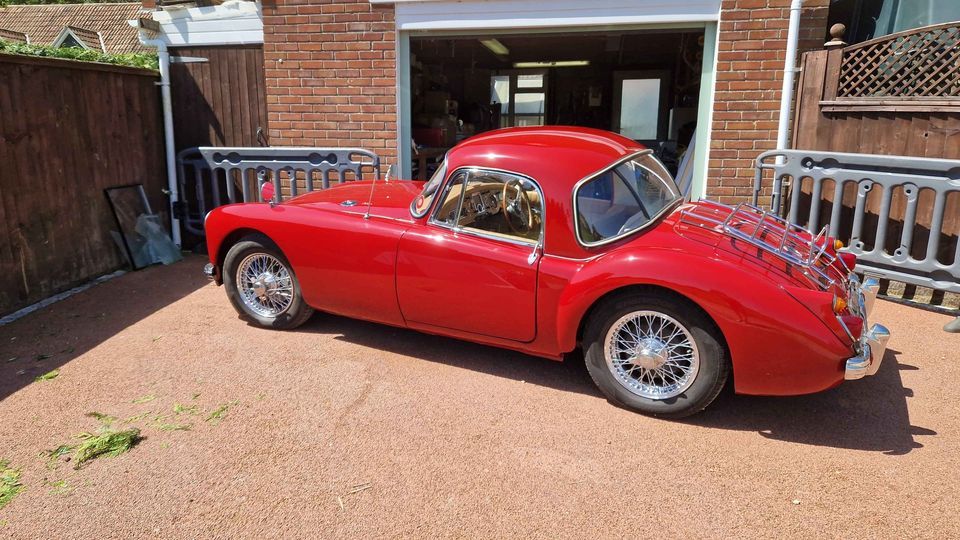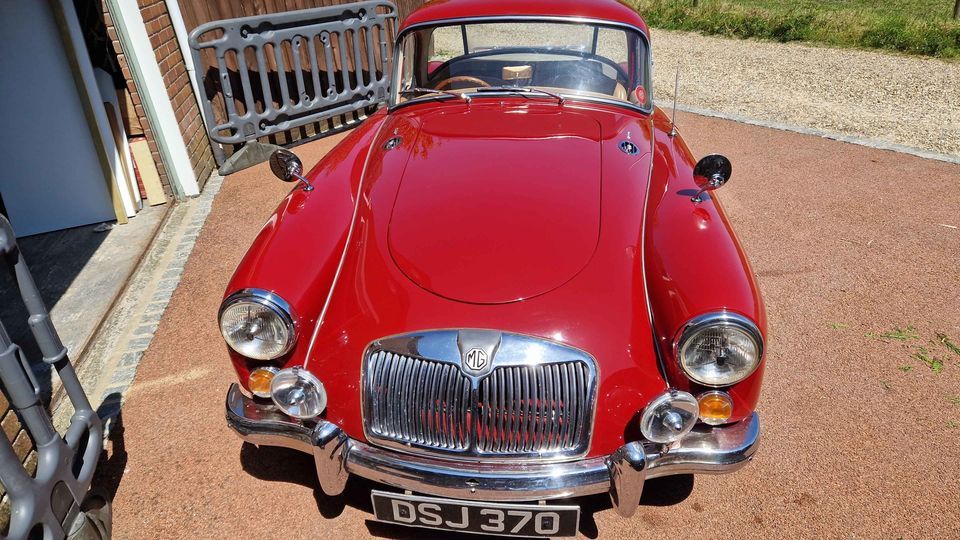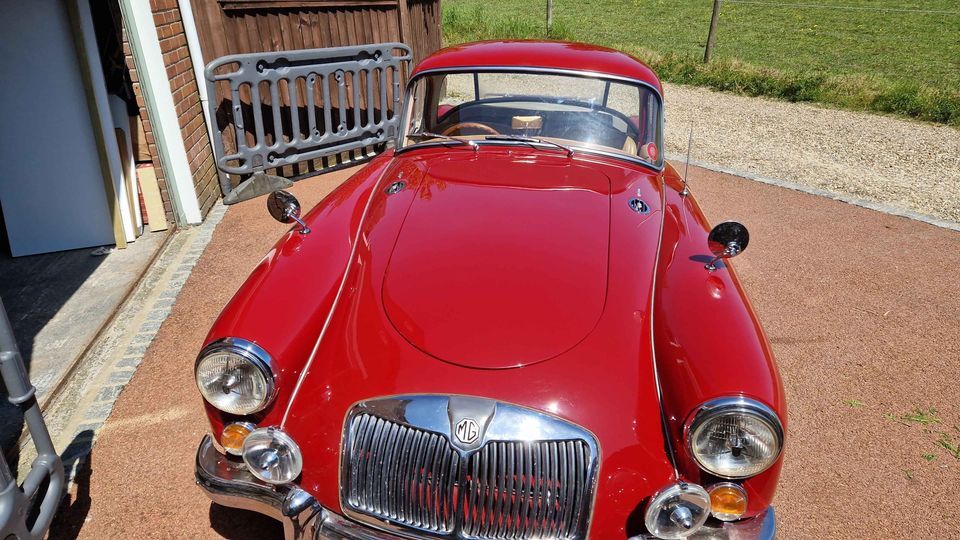 1960 MG MGA Coupe
Description
Unveil the Iconic MGA Coupe 1960 - Where Timeless Elegance Meets Thrilling Performance!
🌟 Unmatched Features, Unparalleled Benefits:
🚗 Performance Redefined: This masterpiece boasts a 1600cc engine, ensuring every drive is a symphony of power, precision, and performance. With only 16,000 miles on the clock, it's practically new!
🌈 Aesthetically Awe-Inspiring: Dressed in a mesmerizing Red exterior and complemented by a luxurious Tan interior, this MGA Coupe 1960 is a visual masterpiece. It's not just a car; it's a work of art that turns heads wherever it goes.
🏁 Take Control: With a manual transmission, you become one with the road, experiencing driving as it was meant to be. Feel the rush, embrace the curves, and savor the journey.
🧰 Meticulously Maintained: We've left no stone unturned to ensure this classic remains in pristine condition. In the past year alone, it has received a comprehensive engine service, including a carburetor rebuild with new parts. The brakes have been overhauled with new calipers, pads, and shoes, ensuring safety and confidence with every stop. It is also having a new alternator fitted on the 18th September, hence the auction closing date after this.
🚪 Attention to Detail: We want to be transparent about our classic's condition. There's a small area of paint bubbling on the passenger door (as can be seen in the 6th image above), a testament to its vintage charm and authenticity.
📻 Musical Time Travel: We've even added a retro radio, transporting you back to the golden age of music. Plus, the master cut-off switch, trickle charger leads, and charger make sure your MGA Coupe 1960 is always ready for action.
🔧 Fully Loaded: It comes with a treasure trove of spare parts, including a new front bumper, a new rear window rubber seal, a set of rear brake shoes, and an extra spare wheel and tire, bringing the total to six wheels, all in great condition. You'll also receive a Heritage certificate to authenticate this gem's pedigree.
🌟 Experience the Emotions:
Owning the MGA Coupe 1960 isn't just about the features; it's about the emotions it stirs. It's the feeling of nostalgia, the rush of power, and the pride of owning a classic that transcends time.
🌟 Your Timeless Journey Begins:
Are you ready to make history on the road? The MGA Coupe 1960 is waiting to be your faithful companion on adventures yet to be written. Seize the opportunity to own this iconic piece of British motoring history.
🚗 Don't let this chance slip through your fingers. Embrace the past, conquer the present, and create your future with the MGA Coupe 1960. Act now and make this dream car yours! 🚗
Estimate: £19,000 - £21,000
Loading the bidding panel...
Exterior Colour
Red
Interior Colour
Tan Leather
Driver Side
Right Hand Drive
Mileage
16,000
Transmission
Manual
Engine Size
1.6L Petrol
Location
Wiltshire
Delivery
Get a quote for delivery straight to your home or garage with our partner ShipMyCar:
Get a quote
By setting a proxy bid, the system will automatically bid on your behalf to maintain your position as the highest bidder, up to your proxy bid amount. If you are outbid, you will be notified via email so you can opt to increase your bid if you so choose.

If two of more users place identical bids, the bid that was placed first takes precedence, and this includes proxy bids.
Another bidder placed an automatic proxy bid greater or equal to the bid you have just placed. You will need to bid again to stand a chance of winning.